Stonework
Fireplaces
Wood Products
Bath stone used for this Rural Office in Somerset
Pinckney Green supplied all the architectural stonework for this stone office building at a rural business centre near Bath in Somerset.   The project involved providing new coping stones for the gable ends plus door and window surrounds in local Bath stone.   The owner chose Bath stone to reflect the Purbeck walling of the office block and because it's an attractive but weather-proof material with great durability.
Bath Stone Portico, Somerset.
Pinckney Green Stoneworks recently built a Bath stone portico for a period farmhouse in mid-Somerset which is attached to a small chapel.   Our client wanted to create a grand entrance for their front door and loved the colour of Bath stone so we used Bath stone block which was in keeping with the character of their property.
The project involved first removing a low stone garden wall and laying foundations before building the portico and installing oak framed windows and an oak-clad ceiling.
Our masons carved  a stunning stone door surround which adds real flair to the entrance while the portico's arched roof reflects the shape of the dormer window in the roof directly above aswell as the existing kitchen porch.
We were also asked by our client to commission a bespoke oak front door which was completed with stunning wrought iron furnishings.  The portico interior also featured a beautiful wrought iron pendant light and a blue lias stone floor.
The finished portico makes a delightful  and polished entrance to the front of the house.
Carved Door Pediment
This highly decorative piece of carving adds dramatic detail to this stone door surround,  demanding attention as people walk below it.  The stonework design shows regal-looking shields on draped fabric with small wreaths in either corner.
Check out more of our deatiled stone carving on our website https://www.pinckneygreen.co.uk/product-category/stonework/. Please get in touch to discuss your stonework requirements.
Local Bath stone used for this striking Farmhouse Extension.
Originally built in the 1600's, this striking stone farmhouse in Gloucestershire has been regularly reinvented to suit different eras. The farmhouse underwent a major renovation in the Georgian period with several further alterations made in the 1800's and 1900's. The property has most recently had a substantial extension added in 2011.
Pinckney Green Stoneworks, a sister company to Pinckney Green Fireplaces, supplied all the architectural stone work for the new extension in local Bath stone. We worked closely with the client to ensure all stone details were in keeping with the Georgian style of the older parts of the house and the stone features we provided included the gable end, parapet, quoins, window frames and base blocks.
Stone Portico
This large 1940's villa in West Sussex was originally designed with a flat frontage but the property's latest owner was keen to add a stone portico to the front entrance in 2010.
Our stonemason chose a simple design for the portico to suit a 20th Century house and carved it from local Bath stone. The elegant design has a robust and solid appearance but its plain bold lines allow the portico to blend in smoothly with the rest of the property. The new portico adds greatly to the character and grandeur of this modern house
Bath stone frontage for a new build luxury home in Bath.
Exterior and interior masonry work
Pinckney Green supplied and fixed the inner skin of concrete block and outer layer of Bath stone for the front of this large luxury home in Bath in the Summer of  2015.    The house was reproduced to exactly mirror the design of the neighbouring house with it's double bay frontage and complex Bath stone block arrangement.  We also installed a Deaconsfield fireplace in Bath stone and all the window cils.
Masonry work for a private house rebuild near Bath.
Random walling and brick and block for a new extension
All the masonry work for this beautiful country cottage in Midford near Bath was totally restored by Pinckney Green along with the construction of a new build extension.  We re-used the Bath stone from the original property to create rugged random walling for the exterior walls and new stone used on site came from a quarry within one mile of the house.
Stonework for a three storey block of flats in Bristol.
Brick and blockwork for new build property
We supplied several teams of experienced brick and block layers to construct all walls, doorways and windows from the foundations up to the third floor of this block of flats in the St Paul's area of Bristol.
We also supplied and fixed 30 cast stone cils for all the windows.
The development was owned by VStar Industries and the project ran from March to December 2015.
Stone restoration for an old school house in Surrey.
Elegant carved stonework features.
Pinckney Green supplied and fixed all the Bath stone masonry for this school house renovation project in Surrey including masonry work on walls and installing coping stones, door and window surrounds.   The building was repurposed from a boys school to a wedding venue which opened in 2015.
Bath Stone door surround and steps for a property near Guildford, Surrey
Hand carved stonework.
We supplied and fixed this Bath stone door surround and stone steps for an Old School House in Upper Froyle, Surrey.
Pinckney Green also supplied and fitted the stainless steel hand rail which finishes the steps off smartly and lends a subtle contemporary touch.
Contemporary York stone patio and steps for a garden in Bath
Patio hard landscaping
We helped our customer create this new garden design during the summer of 2015 so they could enjoy more al fresco dining.
For the patio we used a pale buff coloured York stone paving to create a contemporary look.  The matching York stone steps lead up to the lawn integrating the different zones of the garden.
We also provided two flower bed areas, rendered the patio walls and finished them off with York stone tiles.
Bath stone canopy, near Bath.
We recently hand carved this beautiful Bath stone canopy for the main entrance to a house just outside of Bath.
The client provided us with drawings of their preferred design before asking us to carve the canopy and they were delighted with the finished result.
Carved Stone Arches with Gliding
This stunning piece of architectural stonework has been hand-carved with great attention to detail by one of our most experienced stone masons. The delicate gilding throughout this decorative stonework adds an elegant and regal style to the whole piece
Bath stone fireplace for a grand Library, Manor House –
Gloucestershire
Pinckney Green Stoneworks (PGS) was recently appointed by interior design company, N V Design UK Ltd. We were asked to create a large Bath stone fireplace for the library of a stunning manor house in Gloucestershire. The Bath stone Heddington design was chosen by Nadira Van De Grift, the interior designer. She chose this design for its sharp classic architectural lines and refined stepped mantle. The photograph shows how the dark blue suede wallpaper and painted bookcases work beautifully with the colour and texture of the Bath Stone fire surround. The client chose a classic wood burning stove to compliment the fire surround which gives a beautiful warm glow to the room.
"We are thrilled with the lovely Bath stone fireplace and have many admirers. If you ever have anyone this way who might want to see a sample, don't hesitate to let us know. Many thanks for a lovely job."
Bath stone fireplace in a Georgian Farmhouse, Dorset.
Pinckney Green Stoneworks recently installed three Bath stone fireplaces into a beautiful five bedroom Georgian farmhouse near Sherborne in Dorset. The installation was part of a major refurbishment undertaken by the owners during 2011/12. The listed property dates from c. 1750 and has historically been used as a farmhouse since early Georgian times. The three new Bath stone fireplaces were all made from Bath limestone and the two designs chosen were the Hampton fireplace for both the dining room and snug room and a Bolection fireplace for the main sitting room extension. While the whole project was designed and managed by the property owners they took guidance on period style from the local conservation officer because of its listed property status. The two Hampton fireplaces were selected by the conservation officer because of the simple but formal design, with an elegant square opening which was fashionable in the early Georgian period. In addition, the owners chose a Bolection fireplace design which has a grander and more decorative appearance for their newly built, sitting room extension.
"The three fireplaces look stunning, great craftsmanship throughout. Many thanks for the 'easy to deal with' and professional attitude you brought with you – much appreciated" Lizzy Fenwick
The McAlpine Family Home.
Pinckney Green were asked to replicate a French fireplace in Bath stone taken from an interiors magazine. The warm feel of the double sided stove can be enjoyed from both the sitting room and the hallway.
"The fireplace looks wonderful, thank you very much."
 Bath stone fireplace for a Victorian Luxury Home in the
Cotswolds.
Pinckney Green Stoneworks (PGS) was recently appointed by interior design company, N V Design UK Ltd.
"We were asked to create and install two Bath limestone fireplaces for a large detached, Victorian property in the Cotswolds. The project also involved supplyingfire baskets and 100sq metres of engineered oak floorboards." PGS
Firstly, N V Design asked Pinckney Green to replicate the design of an original Victorian stone fireplace situated at the end of the large 70sq metre drawing room. This impressive second fireplace was carved in Bath stone to match the serene decor of the room and compliment its classic design and soft cream colour.  It helped in adding continuity and grandeur to the look and feel of this elegant room.  We also provided 300mm wide, engineered oak floorboards for the Drawing Room and these extra wide boards helped tie together the traditional style of the room.
PGS also carved a Bath stone fireplace for the dining room and office in a more formal style, with  strong classical lines,  reflecting  the traditional style of the rooms built-in wooden book cases.   We also lined the fire chamber in limestone, provided a polished steel fire basket, installed a Bath stone hearth as well as performing smoke tests for safety.
 "We chose Pinckney Green as we'd worked together previously and I value the professional working relationship we've established.  I was impressed that PGS had the masonry skills needed to replicate original stone fireplace designs and could provide both the Bath stone fireplaces and extra wide wooden flooring we required  within our tight deadlines." Nadira Van De Grift at NV Design UK Ltd.
Striking Bath stone fireplace and Canopy for a private home
near High Wycombe
Pinckney Green recently created this striking Bath stone fireplace for the drawing room of a private home near High Wycombe in Buckinghamshire. The design features a stone canopy above the Bath stone fireplace which creates a relaxed country style, reminiscent of a Tuscan villa. The canopy gives the fireplace an overall height of four metres making it an ideal focal point for this large, high ceilinged room. Another interesting feature of this project is that up lights were placed in the stone hearth to add drama and atmosphere to the fireplace.
Pinckney Green installed three Bath stone stone fireplaces in this property; the bespoke design pictured above, a modern arch fireplace in the hallway and a beautiful Bolection fireplace in the dining room.
The house was renovated over a twelve month period and was completed just in time for Christmas 2012, as Pinckney Green were finishing off the final touches to the fireplace the last few baubles were being hung on the owner's fine, tall Christmas tree.
LONDON – Pimlico Georgian House.
Pinckney Green Stoneworks (PGS) were delighted to work with an international fashion designer, who was renovating their four storey Georgian house in Pimlico, London. We were asked to carve three new fireplaces, two for the main living area and one for the bedroom.  We also renovated fireplaces in the Dining room and the kitchen, along with providing 95sq metres of 220mm wide engineered oak flooring and beautiful polished fire baskets. We arrived with a big team for the two day installation, and were very grateful to our client for making the installation process trouble free. As an international fashion designer with an eye for design, the client chose the curves of the traditional Georgian Bolection as the decorative centre piece for the main living area. Their final comments were "…Thank you for transforming our Georgian House in London…"  We then promptly received an invitation to their house warming party.

Bath stone fireplace for a Large New Build Property in
CHESHIRE
A beautiful statuesque fireplace, the Carrington design is shown here in Bath stone with a brick fire chamber. Delicate laurel leaf shields were carved for each leg to add a personal touch to the fireplace.
This dramatic fireplace is 1.8m high and 2.5m wide with fourteen pieces of stone to make up the outer and inner hearths.  It took our installation team a long day working at full tilt to install it into our customer's refurbished family home in Cheshire.
Pinckney Green carved the Bath stone fireplace based on a photograph of a French fireplace design our customer had found in a manor house they were visiting while on holiday in France.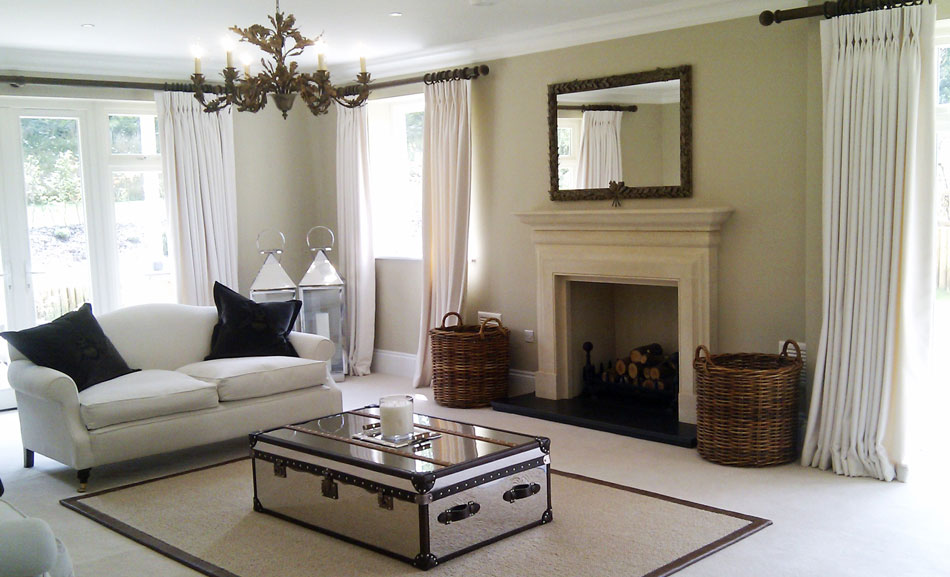 Eleven Bath Stone Fireplaces for Luxury Home
Development in Surrey.
Pinckney Green Stoneworks recently installed eleven Bath stone fireplaces for property development company, Cleanslate in the pretty village of Shackleford in Surrey.    The new rural development, called Fiddlers Green, is in an Area of Outstanding Natural Beauty yet is within easy reach of London. It features eleven individually designed three to six bedroom houses with generous gardens arranged around a central green to reflect the village setting.
Here's a picture of the Ellington fireplace which Pinckney Green installed in each of the eleven homes.  Cleanslate chose this fireplace design because it makes a real impact with its dramatic, stepped mantelpiece and its crisp, contemporary lines.  The warm cream tones of Bath stone also worked well with their interior colour scheme.
The Ellington fireplace creates a delightful focal point in this large sitting room.
Bathroom Fireplace
This Bath stone fireplace adds a beautiful feature to this bright, modern and airy bathroom. It is one of six that Pinckney Green Stoneworks (PGS) installed for a regency house situated in lovely countryside near Honiton in Devon. The customer chose the Worfield fireplace design in Bath stone to be installed in six rooms across the house to provide a consistent and contemporary style throughout. We carefully measured each space to find the correct fireplace proportion and size to suit each room. With its simple but elegant features the Worfield reflects the clean lines and character of this large country house.  To complement the fireplaces, PGS supplied a selection of high quality woodburning stoves and fire baskets. In this large bathroom the stove is almond in colour which sits sleekly and inobtrusively alongside the creamy colour of the Bath stone.
Scandy style Douglas Fir flooring for a lovely regency home in Surrey.
Douglas Fir flooring with white soap finish.
Douglas fir is a very popular choice of flooring especially for the contemporary Scandinavian Style.
Oak door for the porch.
Pinckney Green were asked to commision a oak front door which was completed with stunning wrought iron furnishings.  The portico interior also featured a beautiful wrought iron pendant light and a blue lias stone floor.
Wooden Pillars.
Oak flooring used to complete this striking new extension in a home near Bath, Somerset.
Engineered oak flooring.